SOLUTIONS
As an IT industry leader, we offer the most advanced technology with the highest level of engineering services to leverage your business
Let's Talk
Collaboration
Communications tailored to your organization
Collaboration solutions puts every person in your organization in contact with the people and resources they need, when they need them, regardless of the communication method or device they're using. Whether a hosted voice solution, an on-premise solution, or a combination that integrates cloud services with customized on-premise communications applications, TekScape will help identify the best collaboration solution fit for your needs.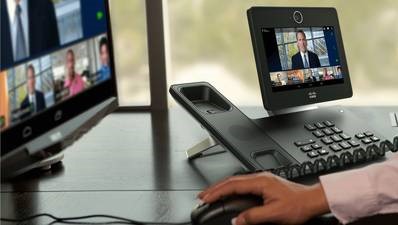 On-premise or Hosted VoIP
With a VoIP system you can integrate all forms of communications running over an internet protocol. This facilitates management and mobility, increasing your productivity.
Video Presence
Video conferencing simplifies meetings, reduces travel expenses and creates a central platform for group discussions and decision-making in real time.
High Mobility Tools
Empower your employees to work anywhere, anytime, on any device. You can reach them by voice, Instant Messaging, video or chat. Share with your team desktop files and use conferencing tools to increase collaboration.
Storage
Increase your data availability
Storage is an integral part of the virtual data center that determines the performance of applications and availability of data. Basically, higher data performance equals higher productivity, so you can get your work done faster.
Replicated Storage Data Protection
For high growth businesses that need to scale their servers and accommodate wide sets of applications, users and data. Our team of experts will analyze your IT infrastructure, evaluate usage and recommend best practices to solve your particular situation.

Storage replication powered by TekScape provides scalability, enhanced performance, and greater capacity of your infrastructure, while protecting and increasing accessibility to your data. Your IT becomes more efficient, productive and secure, empowering the workers at your organization.
How it Works

Your company's stored or archived data is duplicated in real time from your existing network to TekScape's private cloud.

This model replicates your business critical data to an offsite Protected Array, providing accessibility, redundancy, and an overall safer environment, allowing you to retrieve this data in the event of an emergency or even the ability to recover from disaster.
Systems
Scalable, flexible and cost-effective
Our System solutions provide flexibility to your business, while ensuring that all your information is updated, safe, and can be used at any given time. Whether you are considering Virtual Desktop Infrastructure (VDI), optimizing the capabilities of a server or storage array, or you wish to migrate apps and programs to the cloud, TekScape approaches your objectives in a structured way to architect the solution that you need.
Cloud Computing
Private or public clouds offer your business the flexibility it needs to operate anywhere at anytime. Increase collaboration by allowing your team to access information from any device. Cloud-computing allows you to set disaster recovery plans and software updates to make sure your business keeps running all the time.
Virtualization
Provides your business with high availability for critical applications. Grow your business without space restrictions and increase the visibility to your data, apps and software. For a flexible It Infrastructure that's able to respond fast to business demands.
Network
Tailored to your business size and needs
TekScape builds custom data-centers tailored to your resources, capabilities and expectations.
We focus on your immediate needs while factoring in your future growth and ability to scale.
Security
Powered by the best technology available, our solutions protect your business from outside threats and provide you an environment with contingency plans that help you manage risk.
Wireless Technology
Wires and over-engineered technologies are outdated and costly. Our engineering team understands that your business has to run on a 21st century infrastructure.